Dave's Rendang
Submitted by
dave
on Tue, 13/12/2011 - 6:15pm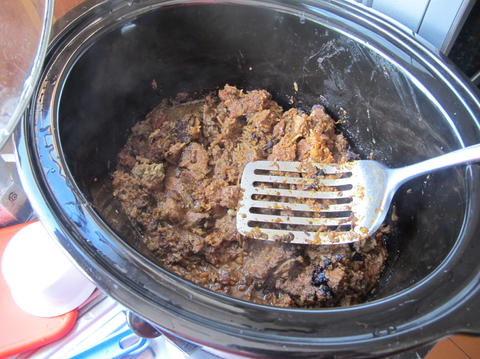 Rendang is a rich, pungent, succulent traditional Indonesian stew built around beef, lamb, or goat. I've also had great success with pork. It's a relatively simple dish to prepare - the key is to get all the ingredients in a pot and then cook the heck out of it. This is a great dish for a slow cooker (which is how I usually prepare it). This particular recipe should feed 6-8. Serve with steamed rice and maybe shrimp crackers and a cucumber salad. Also goes very nicely as one of the components of a traditional Indonesian Nasi Lemak.
Ingredients:
3 tbsp of ghee (clarified butter) or butter
4 cloves of garlic, crushed and chopped
2 medium onions, finely chopped
2 tbsp oil (for slow cooker)
1 kg (2.2 lbs) stew meat - beef, lamb, goat, or even pork (gravey, shin, skirt, etc.) - wash and then cube this into bite size chunks, cutting off fat
1 cup stock (lamb, beef, chicken, fish, or veggie)
3-4 cm (1-2 in) of fresh ginger - peeled and grated or finely sliced
1 tsp turmeric powder
2 tbsp curry powder - hot or mild, your option
2 tbsp garum masala
1/2 cup tomato purée or 2 fresh tomatoes diced (I leave the skin on)
3 tbsp peanut butter (reckon crunchy is better)
1 tbsp dark soya sauce
large handful of coarse dessicated coconut - toast it carefully until light brown in a dry pan to optimum flavour (don't burn it!)
salt to taste (start with 2 tsp)
2 stalks lemon grass - bruise with knife handle or pestle (optional)
juice of 3 fresh limes (substitute concentrate in a pinch)
fresh chopped coriander (crucial flavour!)
Process:
if using slow cooker, turn on high and oil inside to prevent rendang sticking
heat ghee/butter in a cast iron pan or wok (low-med heat)
fry garlic 1 min or until a bit brown - don't over fry
add onions and ginger, fry 5 min or until starting to go translucent (add a bit of oil if necessary to ensure frying)
while the onions are frying, trim fat off the meat and cube. Throw meat cubes, uncooked, into slow cooker or stew pot (if using stew pot, put it on medium heat now)
if using pottles of home made frozen stock, as I usually do, add it, still frozen, to slow cooker or stew pot to begin thawing
add turmeric, curry powder, and garum masala to the onion mixture - stir until onions well coated, and mixture almost dry
add tomatoes and fry until dry - add a bit more oil if required to keep things moving. The key here is to fry (i.e. with oil), not boil.
when done, dump onion mixture into slow cooker or pot, add peanut butter, soya sauce, coconut, and a bit of salt (you can always add more later) and stir it up to coat the meat cubes
add the lemon grass and cover
cook for an hour on high for slow cooker or medium for stew pot, stirring periodically - all the meat should be cooked at this point
turn down to simmer and cook until it smells too good to leave sitting there (2-4 hrs) I often let mine sit in the slow cooker on "warm" overnight - at this point the meat should simply fall apart, and you'll have a rich tasty rendang base
for maximum tastiness, add the fresh lime juice and serve over freshly steamed jasmine rice garnished with a healthy amount of fresh coriander leaves (don't be stingy)
I also tend to include other tasty accompaniments like freshly fried shrimp crackers (you can buy the "chips" in any Asian supermarket aisle or any specialty Asian food store), papadom, and sprinkled with dried onions and even (my guilty pleasure), red onion pickle with Maldivian fish flakes (which I occasionally find in specialty Indian and southeast Asian groceries - might sound nasty, but it's yum!).